We saw too many smartphones getting revealed and launched in 2016. While some of the manufacturers focused on phones that offer great value for money, some got involved in developing and innovating- semi-modular phones, dual camera setup, and compact phones with huge battery capacity were the few good things many people liked. But wait, certain brands just priced their phones way higher than it should have been, some tried new concepts and failed, Google killed the Nexus lineup, and many such things happened. So, today we will be taking a look at the Top 5 disappointing smartphones of 2016.
Top 5 Disappointing Smartphones of 2016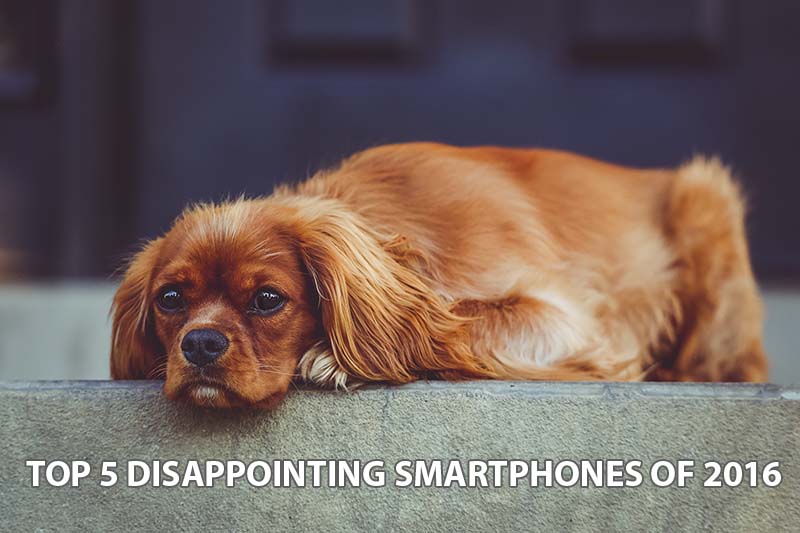 1. Google Pixel and Pixel XL

You may call me crazy but no matter what you pack in a smartphone, whether you provide great UX or not and the value for money are the factors that determine whether a phone will be popular or not. Google officially killed the Nexus lineup this year and bought Pixel, but Pixel and Pixel XL, despite having great features and top-notch hardware has been a disappointment for many hardcore Android and Nexus fans, especially in India. The main reason is the price. Both the devices are great, but after all who wants to spend Rs. 60,000 in India for a phone if it is not an iPhone? Many fans may disagree, but in the eyes of an average consumer who can spend that much, Pixel or Pixel XL are not probably standing out of the crowd. Not bad or something, but definitely a disappointing smartphone in terms of the pricing in India.
2. Asus Zenfone 3 Series
Asus, the computer giant who were being damn impressive because of the value for money they provide with their phones, are now just like any other premium brand. The top variant of Zenfone 3, retails for Rs. 27,999. OnePlus 3 costs the same, so why would anyone go for Zenfone 3 if they want a complete package under Rs. 30,000? We have better phones like the Honor 8 or OnePlus 3, who performs better in a few aspects than the Zenfone 3. The whole Zenfone 3 lineup is overpriced and looks like Asus is now in search of incredible people who can spend an incredible amount of money, neglecting the features and performance. Asus has always been focusing on budget and mid-range smartphones, but the Zenfone 3 was no way budget friendly.
3. CREO Mark 1
A new phone every month- that was the main marketing slogan the brand CREO used. When their first phone, the CREO Mark 1 was launched a lot of people had huge expectations from the brand as it was a kind of new idea to deliver updates every month with new features. But, things didn't go that well. The phone struggled in many aspects, and well, finally the updates just stopped. For the last time they pushed an update in October, and since then they are dead, and after looking at some threads, I'm quite sure that they skipped the November update and provided an update in the last week of December, that too after getting responses like this ( Link 1, Link 2, Link 3) from the users. A disappointment for users and even I personally expected a lot, but things just didn't work out well. It's one the most disappointing smartphones till now and looks like they're not going to launch another smartphone anytime soon.
3. LG G5
LG G5 was yet another attempt to bring modular smartphones to market, but it is actually a semi-modular phone with just a handful mods that users can use. But, battery issue and the expensive mods were downsides and sales went down pretty fast. It was indeed a great idea with a lot of potential, but every piece of puzzle just couldn't fill the gaps properly. While some fans loved the phone, many consumers hated it and looked like we're not getting a fully modular smartphone very soon. A semi-modular phone for LG fanboys, but surely one of them disappointing smartphones for those who expected a lot more.
5. Mi5
The Mi5 is also in our list of Top 5 disappointing smartphones in our list, and we have not one, but two reasons- Pricing and Availability of the higher variants. The flagship phone from Xiaomi had already been launched in China and created a huge amount of buzz among the Mi Fans in India, but 'horrible pricing' just killed the excitement.
At the launch event, Hugo Barra announced that the Mi 5 with 3GB of RAM and 32 gigs of onboard storage would be available for Rs. 24,999 or $375. But at the same time, the same variant was being sold for roughly $300 in China, and at that price tag of $375, anyone could grab the 64GB variant. Even worse part is that Xiaomi didn't launch the 64GB and the Mi5 Pro as well in India, which was a total disappointment. And Mi Fans were quick enough to question Hugo as soon as he announced the same on Twitter.
Well, all of these are not bad at all considering the fact that if you have a good budget and don't care about what you're spending, you can surely go for almost any of these, except the CREO Mark 1. Google Pixel and Pixel XL are the best smartphones right now, the phones from the Zenfone 3 series are decent but nothing like a 'wowwy' performance.
LG G5 is for those who want something completely different from other smartphones out in the market, and Mi5 is still a good phone, except that limited memory issue. However, CREO Mark 1 which is the most disappointing smartphone, is not at all recommended to anyone who is going to buy a phone with a budget of around Rs. 20K-25K or even 30K, instead pick up Zenfone 3 Laser or Mi5 or OnePlus 3 or 3T. Right now, CES is going on, and we're already being bombarded with a lot of smartphone and technology stuff, and we're expecting some kickass phones with innovation, performance, and a reasonable price tag.