So the JioPhone is the latest talk in the telecom industry and has got everyone really excited. The same way when the Reliance Jio company offered free 4G LTE data and voice call services a year ago.
Today we are here answering some of the most frequently asked questions about the JioPhone.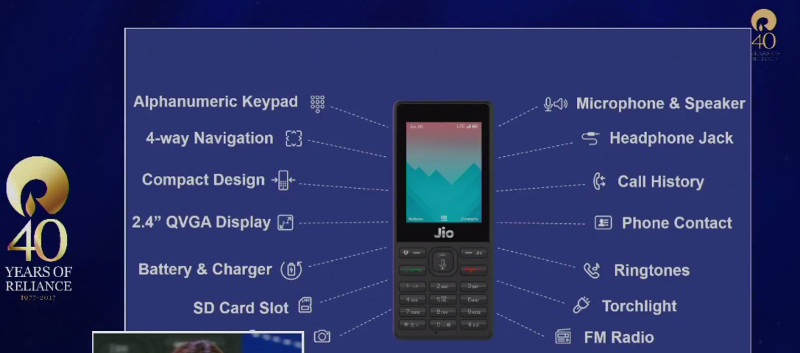 JioPhone FAQ and Answers:
Will the JioPhone Support WhatsApp?
A recent report by Gadget360 has stated that the JioPhone will not be supporting the WhatsApp messenger application.
Which Processor will the JioPhone Run On?
The JioPhone will be featuring the Qualcomm Snapdragon 205 processor.
Does the JioPhone run on Android?
No, the JioPhone does not run on the Android operating system. It will run on Firefox based OS.
Will the JioPhone feature Mobile Hotspot?
As of what we know so far, Qualcomm powered JioPhones will have Mobile Hotspot functionality but it will be locked primarily. Later it might be unlocked officially.
What is the Price of the JioPhone?
Free, free, free! Yes, you don't have to pay a single penny to buy a JioPhone. It is completely free. But, to be on safe side, a customer who is buying a Jio Phone have to pay 1500/- INR as a security deposit. Why? Just for assurance. The validity of JioPhone is 3 years so when you will return the phone you will get the 1500/- INR back or else you can also opt to keep the phone instead of claiming the cash back.
Where can I buy the JioPhone from?
You can get the JioPhone at all the Jio stores or can be pre-booked online using the MyJio app on your device. Don't worry about it, you will get a Jio Phone easily.
When will the JioPhone Sale Start?
The pre-booking of the JioPhone begins on August 24, 2017, after which the phone will be sent to customers on a first come first serve basis starting from September 2017.
Can the JioPhone be used as a trial before purchasing?
To win your trust, reliance will launch some demo phones which customers can use just to decide easily whether they actually want to buy it or not. But make sure, this is only limited so only lucky customers will get a chance to use Jio demo phone on 15th August 2017 for one day. So make sure you stay tuned to the MyJio app on your phone and update it regularly.
What are the Required Documents to buy a Jio Phone?
The documents which were required at the time of buying a Jio Sim will be required when you will go to buy a Jio Phone. The documents are:
Aadhaar Card.
Passport Size Photograph.
1500/- INR.
Does the JioPhone Support Dual Sim?
There will be many variants of this phone. Some variants will feature Dual SIM while some might be Single SIM. (Not confirmed yet)
What is the Camera resolution of the JioPhone Rear and Front Camera?
The JioPhone features a 2 MP rear and 0.3 MP front camera. The phone is basically developed for calling. Even people who are not able to afford pre-paid Sim cards can use Jio sim. It's beneficial for them.
What are the Plan benefits offered to JioPhone users?
Rs 153: Unlimited Calls and 500 MB data per day for 28 days.
Rs 303: Unlimited Calls and 1 GB per day for 28 days.
Final Words:
Have you got any questions in your mind related to the JioPhone? Then do leave them as comments below as we will feature your questions and answers in this article to help anyone else with a similar query.