Apple has announced their latest iOS version at WWDC 2017 as expected. The latest iOS dubbed as iOS 11 comes with a lot of new changes like the revamped App Store, Smarter Siri, AirPlay, the camera and obviously better UI.
New UI
Apple has introduced the new interface for the control center. Just like Android's notification panel, this new interface includes all the important controls in a single page. Now you can access all your notifications by swiping down and by swiping up you can get the widgets. Now while driving your iPhone will automatically turn on car mode. While driving all the notifications will be blocked. But you can access VIP contacts while emergency. The passengers can disable this DND feature.
In iPad now you can drag and drop contents between split screens. You can also drag the apps on your home screen.
App Store
App Store is turning 9 this year and the store has served more than 180 billion downloads and counting. The company has paid $70 billion to its app developers. The new App Store will come in two category Apps and Games just like Google Play Store. The store will also highlight new and popular apps and games in a new Today tab.
Siri
More than 375 million uses Siri monthly. But the Siri wasn't that smart like Google Assistant or Alexa so Apple has worked on it to make it better. The new Siri is smarter and sounds a lot better than the previous one. Siri now comes with the male voice too and all the voices sound more humanly. It can translate in French, German, Italian, Spanish and Chinese. The new UI of Siri is lot better now as it shows more information in a single page. It now understands the context of what we are saying, thanks to the deep learning. Siri will also suggest topics sometimes based on what you are doing to reading.
Camera
Apple has introduced a new image format HEIF which replaces JPEG. This new format is based on HEVC and it promises to have better picture quality and less file size. The company also says that iPhones will now record videos in H.265 format which is far better in compression. So less file size and better quality again.
The portrait mode now works in low light and supports True Tone flash and OIS. In love photos now you can apply different effects and can pick which key image for each photo.
AR KIT
Apple has showcased some really cool AR demos at the event. The company now wants developers to use AR Kit and develop cool games and apps for iOS devices.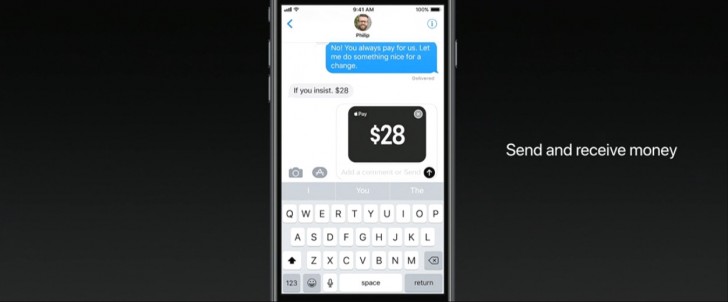 Apple Pay and iMessage
Apple Pay now supports iMessage. You can easily send out money to any of your contacts who is using iMessage. The money will be transferred to Apple Pay and later you can transfer the money to your bank.