There has been a cold war between Android and iOS users where each other claim their favorites as best. However, Android OS has plenty of useful features for the users which aren't available on iOS. One of them is letting users customize their device with third-party launcher apps and free icon packs. Most of you may feel that your phone looks dull with the default launcher and the apps icons. To, resolve it many of the developers have designed their own set of free icon packs and launchers. There are several good launchers available like Nova, Go, Apex, Smart, TSF, Next etc which you can use to use change the whole interface of your smartphone.
There are plenty of free icon packs available for these launchers on Play Store through which you can personalize your Android device. But most of the times you are not able to find the best one for you. So we have gathered some really good professional looking icon packs for you which will help you to make launcher setups.
Best Free Icon Packs 2019
1. Naxos Taz – Icon Pack
This free icon pack has around 2200 beautifully crafted HD icons and 20+ QHD wallpapers stored on an external server. The wallpapers present in the icon pack are also compatible with Muzei Live Wallpapers.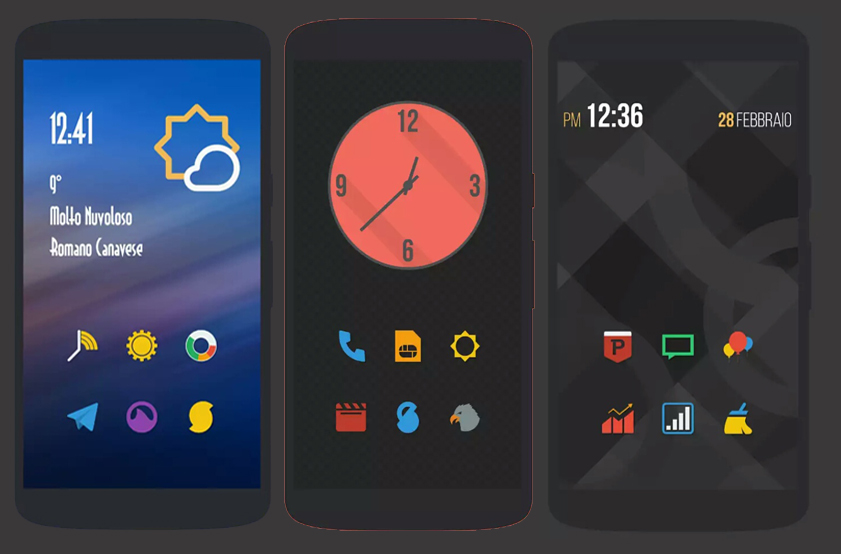 Besides that, the app also has an option through which you can request new icons for the apps that aren't available. This free nova icon pack supports various famous launchers like Nova, Apex, Go and much more.
2. ROUNDEX – Icon Pack
It is one of the best looking round shaped free icon pack which has a very clean, attractive and stylish look. In this app, there are about 2200+ HD icons and 92+ beautiful QHD wallpapers stored on the external server. Like previous icon pack, the wallpapers that come with this app are also compatible with Muzei Live Wallpapers.
The developer of this app has added a mask for unthemed icons for a neat and clean look. Besides this, it also has many other options like request missing app icons, search function, and icon preview to view the icons. This rounded icon pack gets regularly update and it is compatible with almost all popular launcher apps.
3. Delta – Icon Pack
This free icon pack is specially made for those who like minimal icons. This app offers unique, creative and vibrant icons which will spice up your home screen. The icon pack includes more than 1400 beautifully crafted icons. It also supports 20+ launchers including Nova Launcher, Action Launcher, etc. Anyways, if you're one who likes minimalistic design, then you will surely like this icon pack.
4. Whicons – White Icon Pack
While making setups we often try some black or dark wallpapers and for that kind of setup this Whicons icon pack is just more than perfect. It contains 5010+ carefully crafted icons along with many incredible wallpapers. The icons are very clean, minimal and crisp.
This icon pack has covered almost 21150 apps which means you can find icons for most of the apps. Alongside Nova launcher, this icon pack also supports many other popular custom launcher apps.
5. Viral – Free Icon Pack
This free icon pack comes with new age vintage designed icons and has 200+ wallpapers to match with the icons. The icons look very clean and neat having a dark shade background. The app supports more than 25 launchers, and hence you can try it without any hesitation. Moreover, the developer is also very active and updates this app often with new icons.
6. Cygnus – Dark Icon Pack
This a flat style icon pack which is finely made to give it a material designed look with a tinted edge and smooth shadow. This icon pack comes with 800+ icons and various material wallpapers along with it. The icons look very nice and clean with vibrant colors which perfectly fits with any wallpaper. This free icon pack supports more than 20 custom launcher apps including Nova, Apex, Go, etc. The developer stays very active and often updates this app with many new icons as well.
7. Glim – Free Flat Icon Pack
If you're a person, who like to have clean and flat materialistic icons then, this beautiful icon pack is for you.
It has more than 2500 high-quality icons and cloud-based HQ wallpapers with Muzei support. Alternatively, this icon pack also has other useful features such as dock support, icon request tool and many more. You can also buy the paid version of this app for more features and icons.
8. Zwart – Black Icon Pack
If you are looking for black colored icons then Zwart is a good icon pack to go for. It includes more than 5000+ high quality smoothly crafted icons to customize your device. This icon pack has also covered more than 21150 apps. These icons look best with light wallpapers.
The app includes some fantastic cloud-based wallpapers to light up your phone's flat home screen into an awesome one.
9. Moonshine – Icon Pack
Moonshine icon pack has more than 1million downloads in Play Store. This free icon pack includes more than 925 icons and has 28 materialistic wallpapers to match those icons.
The icons come with flat design and materialistic look. If you are a material design lover you will surely love it. Like all the above icon packs, this one also supports almost all the famous launchers like Nova, GO, Apex, Next, Smart etc.
10. CandyCons – Icon Pack
Most of the icon packs are tailored to be same in all aspects such as size, shapes, etc. But this icon pack is different from all others that are available in the Google Play. This app has 690 carefully crafted icons which are different in shapes and colors giving your Android device a creative look. Besides that, Some of the apps have multiple alternative icons, and you can easily change them by choosing a replacement for it.
These are the best free icon packs for 2019 which you can try to customize your smartphone. We will keep updating this article with new icon packs. So don't forget to subscribe to get notified while we update it.
However, if you know any other free icon packs that aren't mentioned here then don't hesitate to share it with us in comments.